Kerry Armstrong Hair Design
Wedding Hair Design
(click the image above to visit the website)
Industry:
Wedding Hair Design
Designed for:
Kerry Armstrong
Business Location:
Milton, Vermont
Feature List:
Contact Form
Blog
Copywriting / Content Writing
Search Engine Optimization (SEO)
Graphic Design
Logo Creation
Mobile-Friendly Design
Social Media Integration
Photo Gallery
Slideshow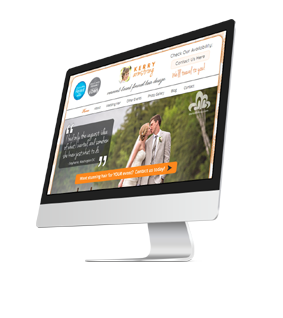 I believe it was destiny that I found Jamie!
After winning a consultation for a website review with Alan Berg, he immediately referred me to Simple Site Guru. He told me Jamie was the best, and he wasn't kidding! She took what was a very basic, homemade website for my Formal Hair wedding business and made a masterpiece.
Jamie had her work cut out for her! I was easy in some ways, but picky about the little things, like asking, "Can you make the edges less sharp and more swirly?"!!! Jamie was very patient and thorough; no stone was left unturned! Jamie and her work exceeded my expectations!!!! When I first saw my finished website, it brought tears to my eyes. I never in a million years imagined that someone could take what I do and make it seem so professional and elegant! I had been relying on my photos to speak for my work, and with her design and guidance, she made it a masterpiece, easy to navigate, links that worked, all with a beginning, middle and end. I HIGHLY suggest hiring Simple Site Guru to take your business to the top!!! Thank you, Jamie, from the bottom of my heart!!!!!!